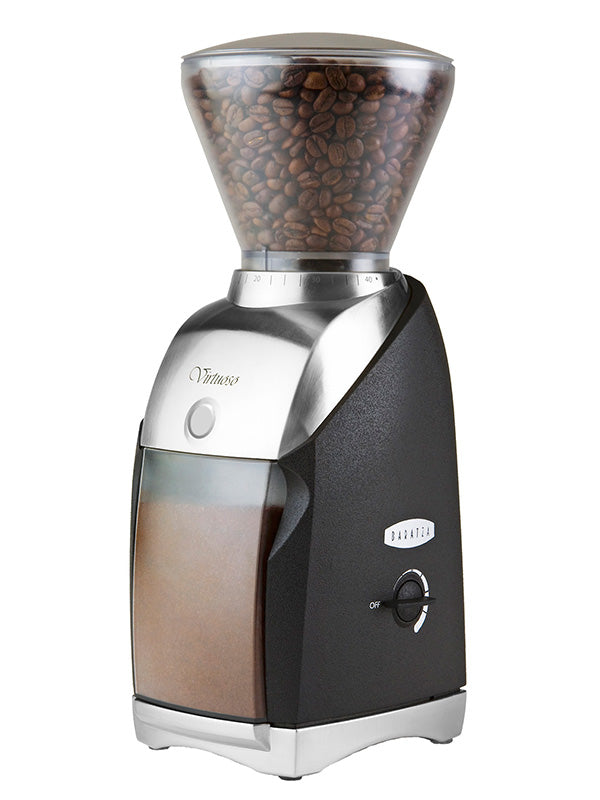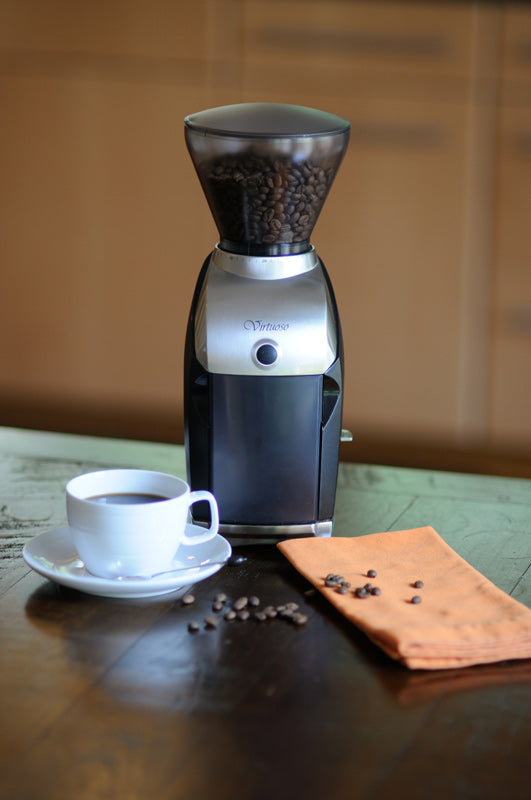 Baratza Virtuoso
Commercial Grade Conical Burrs
Manufactured in Italy, the Virtuoso's™ 44mm grinding burrs are the same material and durability as the industry's highest-quality line of commercial conical burr coffee grinders. Conical burr grinders are exceptional at producing consistent grinds from very fine to coarse, as well as being durable, and will remain sharp for many years. The burrs have a precision mounting system to ensure a stable platform for accurate grinding.
Grind Coffee For Any Brewing Method
There are many coffee grinders on the market. However, few have the ability to grind fine enough for a professional espresso machine and coarse enough for a press pot. The Virtuoso™, on the other hand, has 40 steps of adjustment. Choose the perfect setting by turning the bean hopper to the desired position.
Innovative Calibration
Commercial grinders have a calibration system to ensure that the grinder will grind fine enough for espresso and has the range to grind coarse enough for press pot. This feature is available in the Virtuoso™. The grinders are calibrated when they are manufactured to ensure an accurate range of grind. If necessary the grinders can be user calibrated.
DC Motor
The powerful, high torque 480-watt DC motor effortlessly drives the burrs. This motor turns slowly resulting in cool, quiet operation and permits long grinding duty-cycles. The circuitry is equipped with an automatically resetting, thermal cutoff switch.
Unique Speed Control
The Virtuoso™ uses a combination of gear and electronic speed reduction to control the rotation of the burr to 450 RPM. The electronic speed controller is adjustable from 405 to 495 RPM in the event that specific user conditions require modification of the speed. This slow speed reduces heat, noise, and static generation in the grinder. It also ensures that the beans feed smoothly into the burrs.
Timers Switch And Pulse Button
The Virtuoso™ has a sixty second timer, with segmented graphics, for easily repeatable grind times. It also has a front mounted pulse button that manually controls the on/off function. This is nice if you wish to grind a small amount of coffee for espresso.
Pulse Button Makes Espresso Easy
If you have an espresso machine, you will enjoy the convenience of being able to grind directly into the filter basket for your machine. After you remove the coffee grounds bin, you can insert your filter basket (portafilter) directly under the dispensing chute to collect the coffee as it is being dispensed. You can push the pulse button with your thumb while holding the filter basket for true one hand operation.
Easy To Clean
One important and often overlooked task required of owning a good coffee grinder is routine cleaning. To clean the Virtuoso™, just remove the coffee been hopper to expose the grinding chamber. At this point the outer ring burr simply lifts out. The entire grinding chamber can then be thoroughly cleaned in a few minutes.
---
Need It?
Contact us for custom pricing and equipment recommendations for your specific needs.