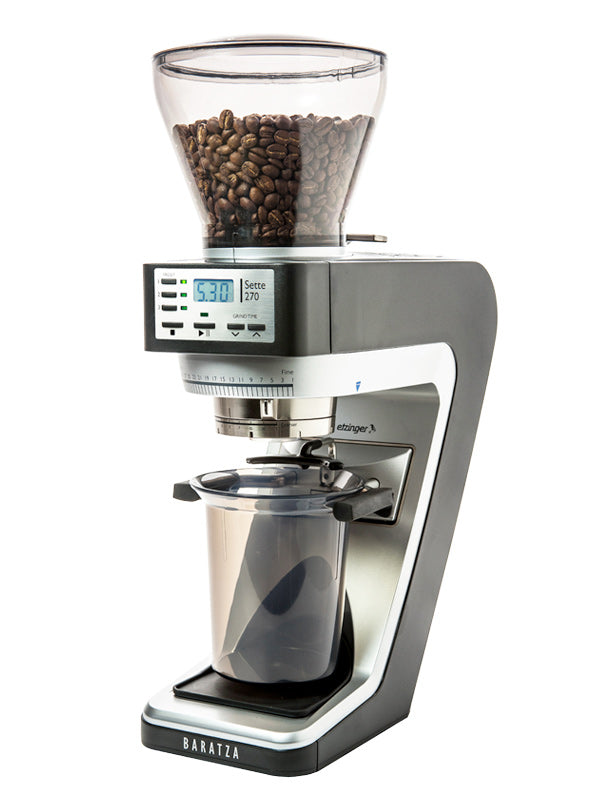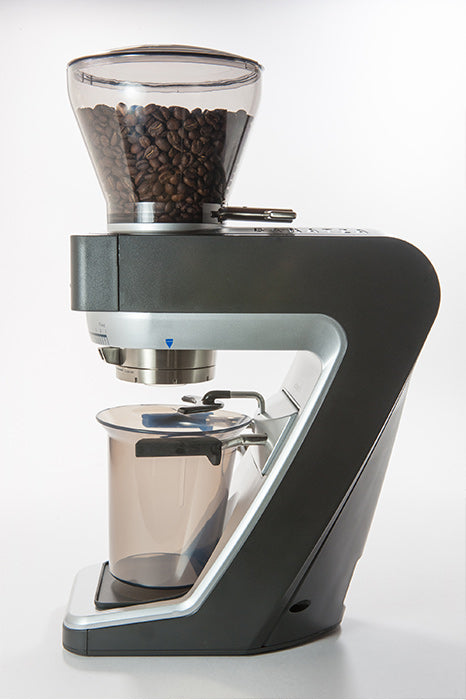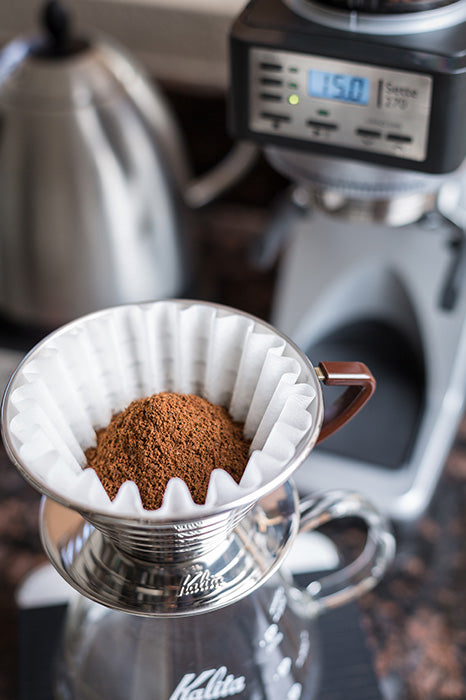 Baratza Sette 270
The Baratza Sette 270 grinder has 3 programmable settings for dosing and a macro/micro adjustment for grind size. There is a built-in holder that allows for direct grind into a portafilter, your favorite manual brewing device or into the supplied grounds bin. The Sette's outer burr rotates and the inner burr is fixed to allow for the coffee to pass straight through the grinder, vertically, and dropping into your portafilter or Kalita Wave dripper below.
The Sette Series has, at its core, a revolutionary grinding mechanism that produces a game-changing performance. Key aspects of this innovative mechanism include Straight-thru vertical transports and grinding of the beans (highly efficient and results in minimal residual coffee in the system). Rotation of the outer ring burr (with twice the surface area of the cone burr) along with proprietary tooth geometry, produces grinding thru-put that is two to three times that of others in its class. Proprietary gear box (planetary + crown gear) that maximizes the efficiency of torque transfer, resulting in lower power consumption and much less heat. Powerful DC motor for maximum starting torque and efficiency, resulting in cooler operation.
CONVERTIBLE DEVICE HOLDER & GROUNDS
BIN
A built-in convertible holder, unique to the Sette Series, allows you to grind directly into your portafilter, the supplied grounds bin, or most of the popular brewing devices (V60, Clever, Able Kone, etc.). The rubber sleeves on the arms are fully rotational allowing you the option to position them in a way that best suits the tool/brew method you are using. The arms can accommodate portafilters from sizes 49mm to 58mm and the holder includes an integrated hook for stability. The Sette's grounds bin is made from an anti-static plastic, with a molded spout for easy pouring into your preferred brewing device. It has a usable capacity of 160g (Med Roast).
HOPPER
The hopper holds approximately 300-400g of coffee. An innovative bean shutoff feature in the collar permits no-mess, no-fuss hopper removal for changing out beans.
DIGITAL CONTROL PANEL
A user-friendly front mounted control panel has an easy to read backlit LED display. Three programmable buttons allow for grind time setting within 0.1 seconds. Simply press the start button and the Sette automatically delivers precise dosing.
GRIND ADJUSTMENT
The Sette has a macro adjust of 30 steps, grinding from espresso to manual brew. A step-less micro adjusts with 9 indicators, allows the user to easily dial in a perfect espresso. The macro/micro-mechanism is directly connected to the cone burr resulting in immediate and true grind adjustment.
DIMENSIONS
The Sette Series is designed with a small footprint (like our other models) ideal for home kitchens, offices, brew bars and catering.
CLEANING
The cone burr is easily removable with no tools, making cleaning very easy.
MINIMAL RETENTION
To maximize freshness, the Sette minimizes the ground coffee left in the grinder.
BREWING METHODS
The Sette 270 is exceptional for all brewing methods, from espresso to manual brew.
---
Need It?
Contact us for custom pricing and equipment recommendations for your specific needs.